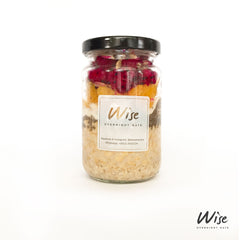 Sunrise Delight Oatmeal
Out of stock
Storage
Cold storage 0-4 ℃ can be stored up to 3 days.

Once seal/container is opened, need to finish immediately.

Avoid direct sunlight or hot area.
食物保存方式
可在0℃~4℃的环境下冷藏,需在3天内吃完。

当打开之后请尽快食用完。

避免放置在有阳光照射或高温的地方。
Ingredients:
Ingredients: Dragon Fruits, Orange, Raisins, Sunflower Seeds, Organic Chia Seeds, Greek Yogurt, Honey, Soy Milk and Organic Oats.

Calories: +-347kcal
食材:火龙果,橘子,葡萄干,葵花子,

有机奇雅子,希腊酸奶,纯正蜂蜜,有机豆奶,有机燕麦

热量:+-347卡路里
Why is it so good?

Why is it so good?

How to eat?

When to eat?

Who suitable to eat?



Food safety, workplace sanitation & quality assurance


How many portions are your meals?
Every meal is single serving and meant to feed one person. One meal is about 300 calories to 500 calories, depending on the flavour you choose. Calorie count and ingredients information can be found from the menu image.
Where do I find the expiration date on my meals?
Best before date is stated on the packaging (jar/ bottle/ container).
Keep refrigerated/ frozen
Enjoy before the expir