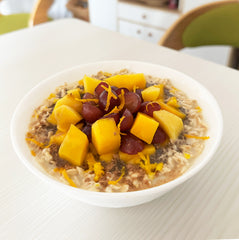 Sunny Grapes Oatmeal
Out of stock
Sunny Grapes Oatmeal Only 260 Calories per Jar. 

Ingredients & Nutritional Information
Ingredients: Seedless Grapes, Mango, Orange , Cinnamon, Organic Chia Seeds, Greek Yogurt, Honey, Soy Milk and Organic Oats

Energy: +-260 calories
Storage
Cold storage 0-4 ℃ can be stored up to 4 days.
Once seal/container is opened, need to finish immediately.
Avoid direct sunlight or hot area.
Why is it so good?
How to eat?
When to eat?
Who suitable to eat?
Food safety, workplace sanitation & quality assurance