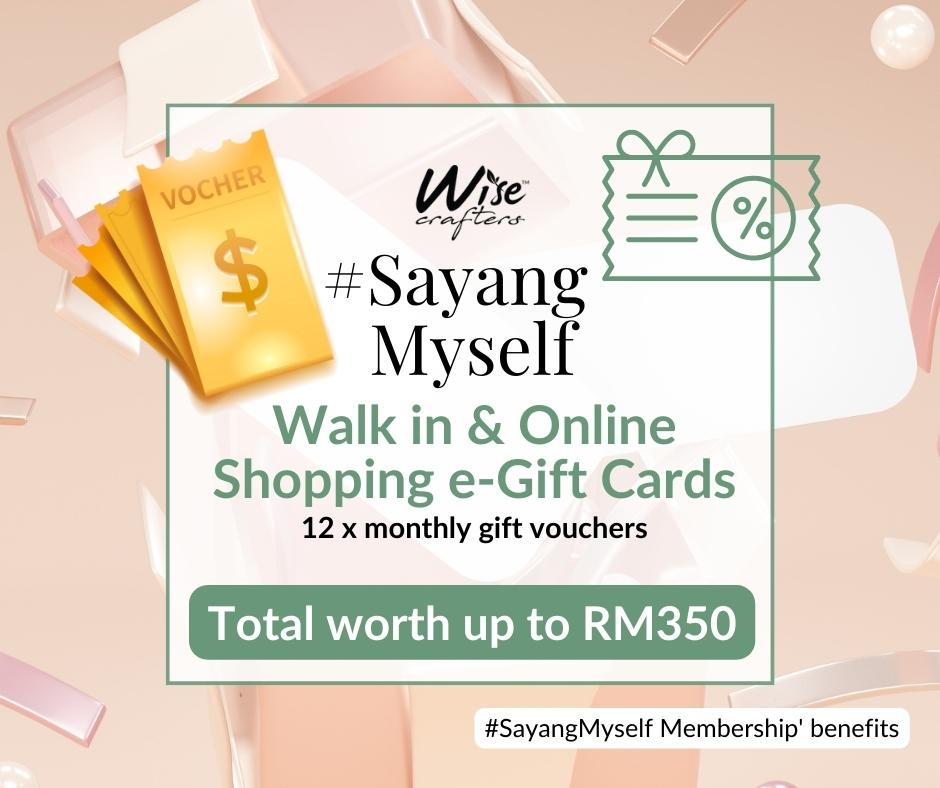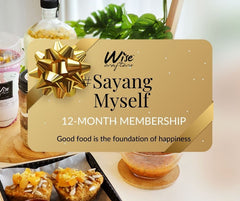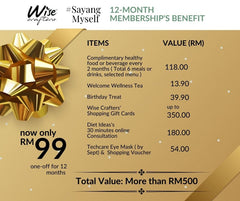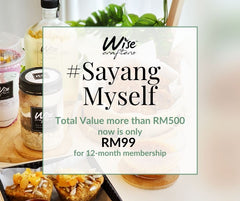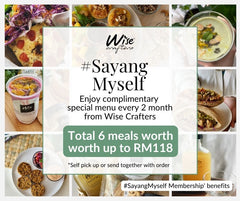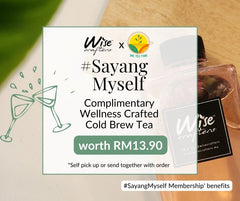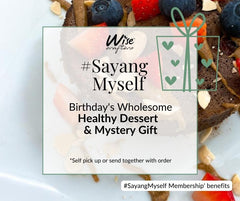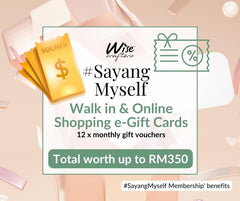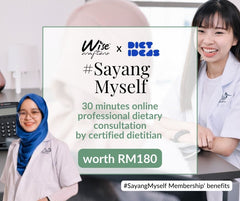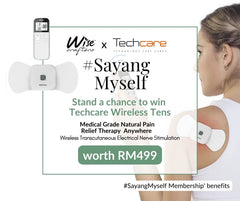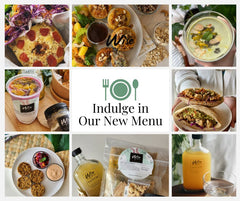 #SayangMyself Healthy Eating Membership
RM530.00
Out of stock
Unlock a year of self-care and wellness with our exclusive #SayangMyself membership! For just RM99, enjoy a range of amazing benefits designed to nourish your body and soul.
🌱 Nourishing Foods & Beverages: Receive healthy items from our new menu every 2 months, ensuring a constant supply of wholesome goodness. ( Total 6 healthy meal / beverage ) 
💰 Cash Vouchers: Enjoy 12  cash vouchers ( values up to RM350)  to save even more on your favorite healthy treats.
🎁 Special Gifts: Celebrate your birthday with specially curated healthy treats!
👩‍⚕️ Dietitian Consultation: Get personalised advice and guidance from a certified dietitian during a 30-minute consultation.
😴 Relaxation Bonus: Unwind and rejuvenate with a complimentary eye mask, because self-care should be a complete experience.
With a total value exceeding RM500, this extraordinary membership is available for only RM99! Don't miss this opportunity to prioritize your well-being and show yourself some love. Join the #SayangMyself 12-Month Membership today! 💖✨

Limited units available!
How many portions are your meals?
Every meal is single serving and meant to feed one person. One meal is about 300 calories to 500 calories, depending on the flavour you choose. Calorie count and ingredients information can be found from the menu image.
Where do I find the expiration date on my meals?
Best before date is stated on the packaging (jar/ bottle/ container).
Keep refrigerated/ frozen
Enjoy before the expiry date.
Storage:
For bundle, we will also indicate no. 1-7 on the packaging so that it would be easier for you to know which flavour to be consumed first.

Oatmeal usually can last about 3-5 days inside the fridge except for certain flavours such as Aloe Vera Longan & Avocadian can only last about 2 days.

Frozen meals can be stored for 1 week in the freezer.

Kefir can last about 2-3weeks inside the fridge.
How do I heat up my meals?
Oatmeals do not need to be heated up. The warm foods are fully prepared, just take out from the packaging (except the salad) and heat it up in the microwave for 1 minute or in a steamer/ oven for 5 minutes on medium heat. Please note that the microwave / oven's heating power is different from each and everyone. If not hot enough you may add 30 secs more.
Where can I find ingredient and nutritional info for your meals?
You can click the " Ingredients and nutritional information" tab from every meal page to know about the details. Besides, you also can obtain the relevant information from our meal images section.
Can I choose the meals I want?
You can choose from the dropped down menu in Oatsome bundles or Fitmeal bundles.
Delivery Detail:
We will make upon order and send all foods and snack in one delivery.
🌻Klang Valley Area:
We will deliver via dispatch service. Our daily delivery timeslots, *Sun-Friday* (Saturday off day, Sunday 10am onwards) : Morning : 8.30am – 10am, 10am -12pm. Afternoon : 4pm -6pm
*For next-day 8.30am to 10am slot, Cut-off time is 4PM EST a day before. Any orders placed after 4PM EST will be delivered after 10am on the following day.
🌻Peninsular Malaysia (availale for SlimFit Meals Bundle only):
We will deliver via cold chain delivery service. It might take 2-3 days time to reach you place after it has been picked up from our central kitchen in Bandar Sunway. Delivery crew will message you before they reach your location.