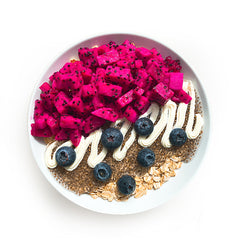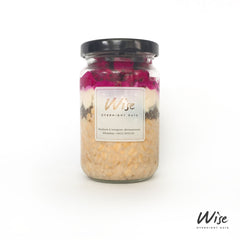 Pitaya Parfait Oatmeal
Out of stock
Pitaya Parfait is a definite customer favourite! The combination of our signature soaked oats, fresh dragon fruits, probiotic Greek yoghurt and organic chia-pudding are perfect when combined with juicy blueberries. Jars of deliciousness that you don't want to miss out!
Storage

Cold storage 0-4 ℃ can be stored up to 5 days.

Once seal/container is opened, need to finish immediately.

Avoid direct sunlight or hot area.
食物保存方式
可在0℃~4℃的环境下冷藏,需在5天内吃完。

当打开之后请尽快食用完。

避免放置在有阳光照射或高温的地方。
Ingredients:
Ingredients: Dragon fruit/ Pitaya, Organic Chia Seeds, Greek Yogurt, Honey, Soy Milk and Organic Oats
Energy: +-312 calories
食材:火龙果,

有机奇雅子,希腊酸奶,纯正蜂蜜,有机豆奶,有机燕麦

热量:+-312卡路里
Why is it so good?

Why is it so good?

How to eat?

When to eat?

Who suitable to eat?



Food safety, workplace sanitation & quality assurance