Choose a plan that meets your goals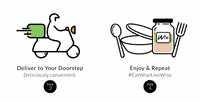 Make Healthy Eating Easier
We believe eating right should be tasty & easy for everyone. That's why we do the work of making food ready when you are with both nutrition and taste in mind...
LEARN MORE
Healthy Meal Plan Delivery
We run a successful healthy meal plan delivery business in Malaysia, providing our customers with nutritious and clean meals. Our team of nutritionists and food scientists meticulously curates each meal. We personalise your meal plans and help you achieve health goals in a natural & efficient way. We all know that food is an experience. It should be a delightful experience from the moment you add your food to the cart to your first bite. That's why we go above and beyond in terms of service — understanding your body conditions, offering natural healthilicious plant-based meals, and providing on-time delivery.
Our team also believes that healthy meal plan delivery should be made accessible and convenient for everyone. That is why we strive to give back to the community whenever possible at Wise Crafters. We remove the guesswork from meal preparation by delivering a healthy and fresh meal to your doorstep. It's always our priority to do our best to source our ingredients with sustainability and carbon footprint in mind when it comes to meal plan delivery. So get a healthier meal with us now. We deliver to any location in Klang Valley (KL & Selangor). We are ready to be a part of your meal plan delivery journey!