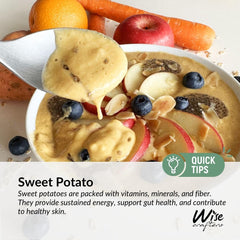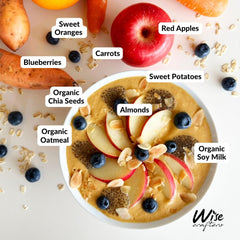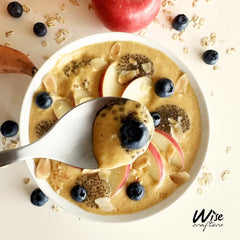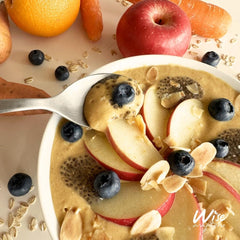 Sweetie Pie (Smoothie Bowl)
Out of stock
Indulge in our Sweetie Pie Smoothie Bowl: Naturally Sweet, Creamy, and Nutritious!  Savour the heavenly blend of sweet potato's natural sweetness & velvety texture.  Packed with skin-loving vitamins, low in calories, & oh-so-satisfying. A guilt-free delight for your body and taste buds. ✨🌿 Experience the perfect balance of flavour and nourishment with our Sweetie Pie Smoothie Bowl. Treat yourself today!

Storage
Cold storage 0-4 ℃
Once seal/container is opened, need to finish immediately.
Avoid direct sunlight or hot area.
食物保存方式
可在0℃~4℃的环境下冷藏。

当打开之后请尽快食用完。

避免放置在有阳光照射或高温的地方。
Ingredients & Nutritional Information
Ingredients: Blueberries, Red Apple, Sweet Potato, Orange, Carrot, Banana, Cinnamon, Org. Oats, Org. Soy Milk, Org. Chia Seed & Almond Flakes

Energy: +-382 calories
食材:

蓝莓、红苹果、甜薯、橙子、胡萝卜、香蕉、肉桂、有机燕麦、有机豆浆、有机奇亚籽和杏仁片。

热量:+-382卡路里
How many portions are your meals?
Every meal is single serving and meant to feed one person. One meal is about 300 calories to 500 calories, depending on the flavour you choose. Calorie count and ingredients information can be found from the menu image.
Where do I find the expiration date on my meals?
Best before date is stated on the packaging (jar/ bottle/ container).
Keep refrigerated/ frozen
Enjoy before the expiry date.
Storage:
For bundle, we will also indicate no. 1-7 on the packaging so that it would be easier for you to know which flavour to be consumed first.

Oatmeal usually can last about 3-5 days inside the fridge except for certain flavours such as Aloe Vera Longan & Avocadian can only last about 2 days.

Frozen meals can be stored for 1 week in the freezer.

Kefir can last about 2-3weeks inside the fridge.
How do I heat up my meals?
Oatmeals do not need to be heated up. The warm foods are fully prepared, just take out from the packaging (except the salad) and heat it up in the microwave for 1 minute or in a steamer/ oven for 5 minutes on medium heat. Please note that the microwave / oven's heating power is different from each and everyone. If not hot enough you may add 30 secs more.
Where can I find ingredient and nutritional info for your meals?
You can click the " Ingredients and nutritional information" tab from every meal page to know about the details. Besides, you also can obtain the relevant information from our meal images section.
Can I choose the meals I want?
You can choose from the dropped down menu in Oatsome bundles or Fitmeal bundles.
Delivery Detail:
We will make upon order and send all foods and snack in one delivery.
🌻Klang Valley Area:
We will